Single & Multi-Unit Franchising
Les Rôtisseries PIRI PIRI Franchise will adopt this franchising model in the Greater Montreal Area (GMA) to include Laval, Monteregie and Laurentides. In these areas, only single franchises are sold to prospective franchisees who will own and operate their own PIRI PIRI Rotisseries. These franchisees will be welcome to buy additional franchises at a reduced fee and become multi-unit franchisees given they are in full compliance with the provisions of their franchise agreement.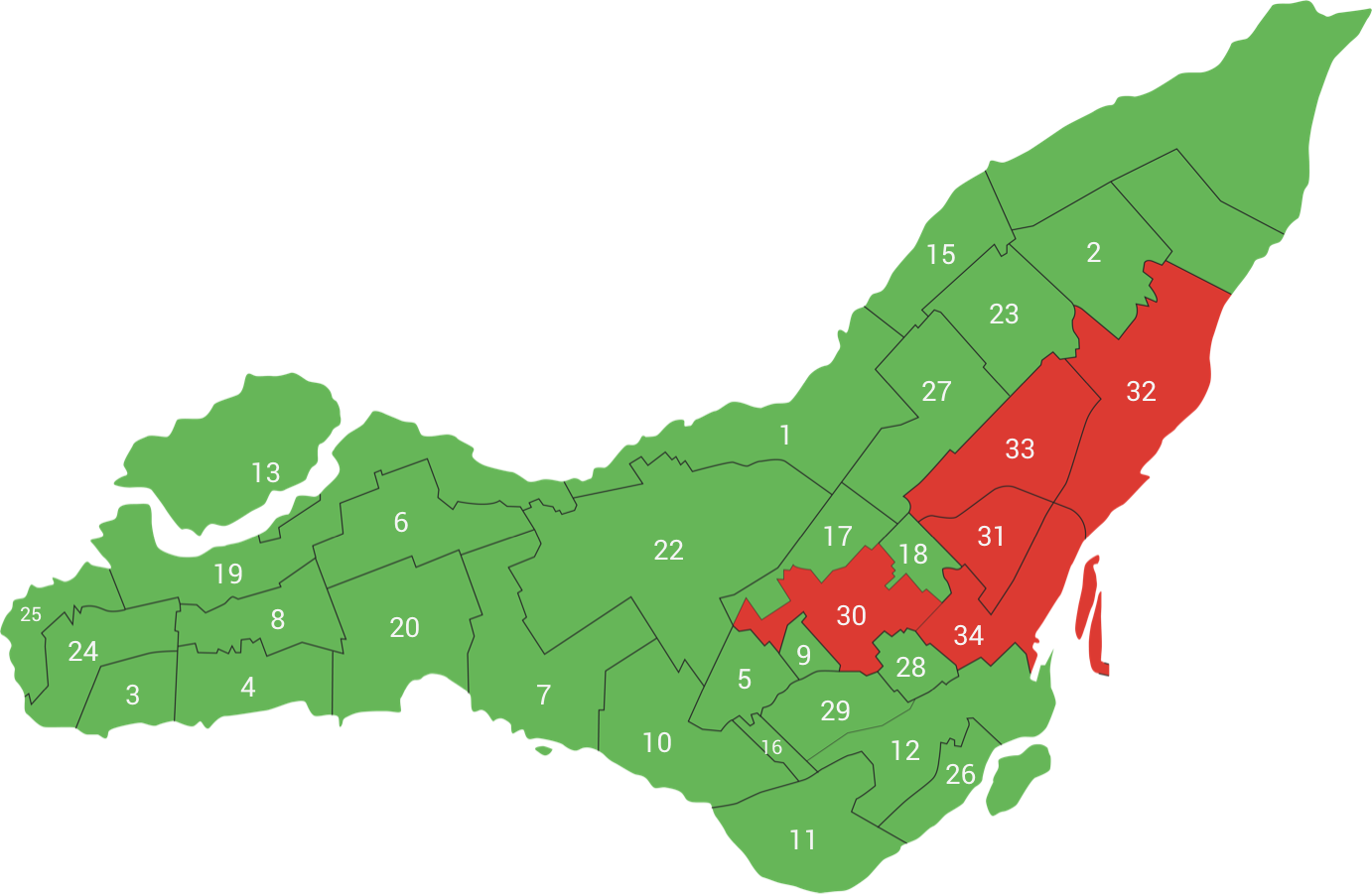 Available areas
1. Ahuntsic-Cartierville
2. Anjou
3. Baie d'Urfé
4. Beaconsfield
5. Côte-Saint-Luc
6. Dollard-des-Ormeaux
7. Dorval
8. Kirkland
9. Hampstead
10. Lachine
11. LaSalle
12. Le Sud-Ouest
13. L'Île-Bizard–Sainte-Geneviève
14. Montréal-Est
15. Montréal-Nord
16. Montréal-Ouest
17. Mont-Royal
18. Outremont
19. Pierrefonds-Roxboro
20. Pointe-Claire
21. Rivière-des-Prairies–Pointe-aux-Trembles
22. Saint-Laurent
23. Saint-Léonard
24. Sainte-Anne-de-Bellevue
25. Senneville
26. Verdun
27. Villeray–Saint-Michel–Parc-Extension
28. Westmount
29. Notre-Dame-de-Grâce
Not available areas
30.

Côte-des-Neiges

31. Le Plateau Mont-Royal
32. Mercier–Hochelaga-Maisonneuve
33. Rosemont–La Petite-Patrie
34. Ville-Marie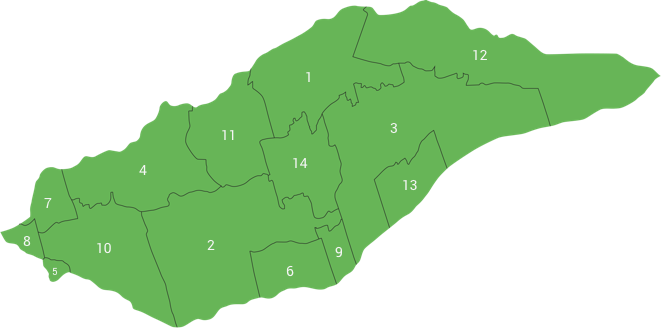 1. Auteuil
2. Chomedey
3. Duvernay
4. Fabreville
5. Îles Laval
6. Laval-des-Rapides
7. Laval-Ouest
8. Laval-sur-le-lac
9. Pont-Viau
10. Sainte-Dorothée
11. Sainte-Rose
12. Saint-François
13. Saint-Vincent-de-Paul
14. Vimont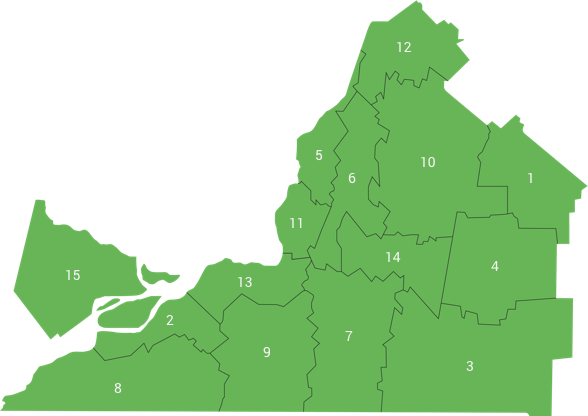 available areas
1. Acton
2. Beauharnois – Salabery
3. Brome-Missisquoi
4. La Haute-Yamaska
5. Lajemmerais
6. La Vallée-du-Richelieu
7. Le Haut-Richelieu
8. Le Haut-Saint-Laurent
9. Les Jardins-de-Napierville
10. Les Maskoutins
11. Longueuil
12. Pierre-De Saurel
13. Rousillon
14. Rouville
15. Vaudreuil-Soulanges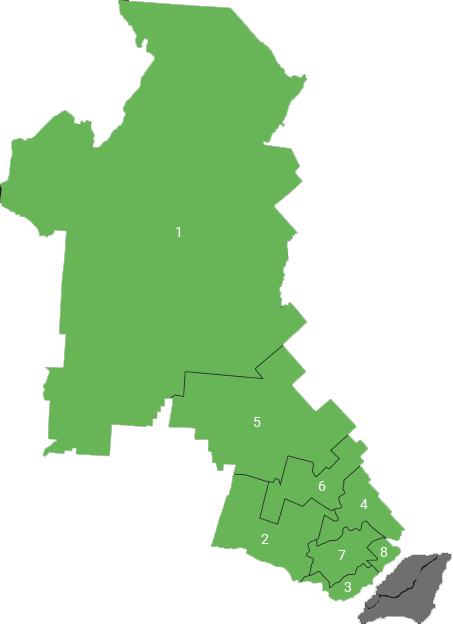 available areas
1. Antoine-Labelle
2. Argenteuil
3. Deux-Montagnes
4. La Rivière-du-Nord
5. Les Laurentides
6. Les Pays-d'en-Haut
7. Mirabel
8. Thérèse-De Blainville
Area Development Franchising
Les Rotisseries PIRI PIRI Franchise is expanding its opportunity to bring on board qualified 'Franchise Area Developers'. These are individuals or companies that have extensive experience in restaurant operation and development, usually, multi- unit franchisees of a certain franchise, or multi-concept owners and operators. An Area Developer will commit to open at least 3 PIRI PIRI Rotisseries and this number can go higher in highly populated areas. Area Developers will have a development schedule to attend to, and will own all PIRI PIRI Rotisseries in their exclusive territories.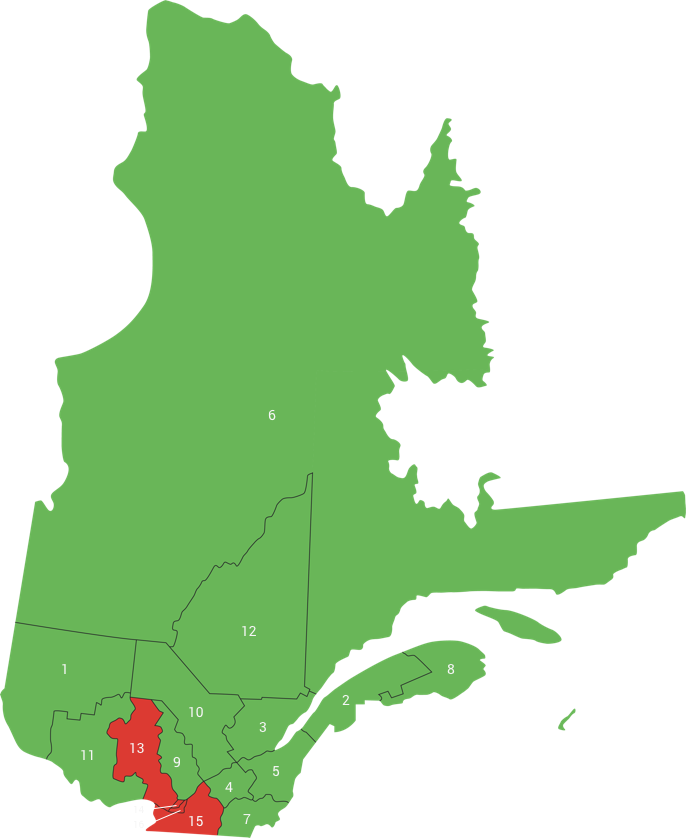 Available areas in Quebec
1. Abitibi-Témiscamingue
2. Bas-Saint-Laurent
3. Capitale-Nationale
4. Centre-du-Québec
5. Chaudière-Appalaches
6. Côte-Nord – Nord-du-Québec
7. Estrie
8. Gaspésie – Île-de-la-Madeleine
9. Lanaudière
10. Mauricie
11. Outaouais
12. Saguenay – Lac-Saint-Jean
Not available areas
13. Laurentides
14. Laval
15. Montérégie
16. Montréal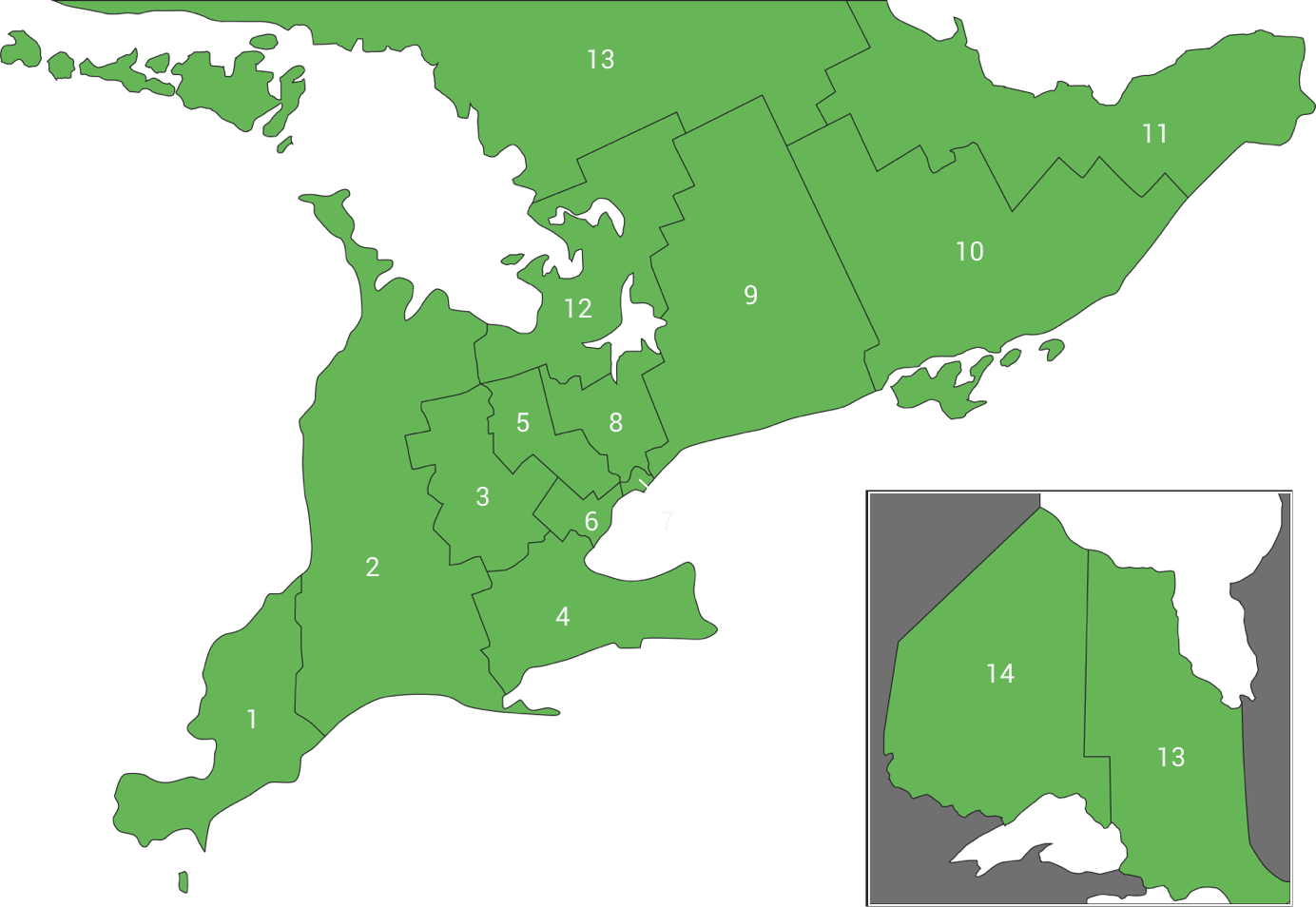 Available areas in Ontario
1. Erie St. Clair
2. South West
3. Waterloo Wellington
4. Hamilton Niagara Haldimand Brant
5. Central West
6. Mississauga Halton
7. Toronto Central
8. Central
9. Central East
10. South East
11. Champlain
12. North Simcoe Muskoka
13. North East
14. North West
To cover all of Canada and further offer franchise opportunities, Les Rotisseries PIRI PIRI Franchise will adopt the Master Franchising Model in all Provinces for the Exception of Quebec & Ontario where only Area Development opportunities are available.
In Master Franchising, a Master Franchisee will own and operate own PIRI PIRI Restaurants, but also have the right to Sub-Franchise to individuals and companies and a development schedule to attend to.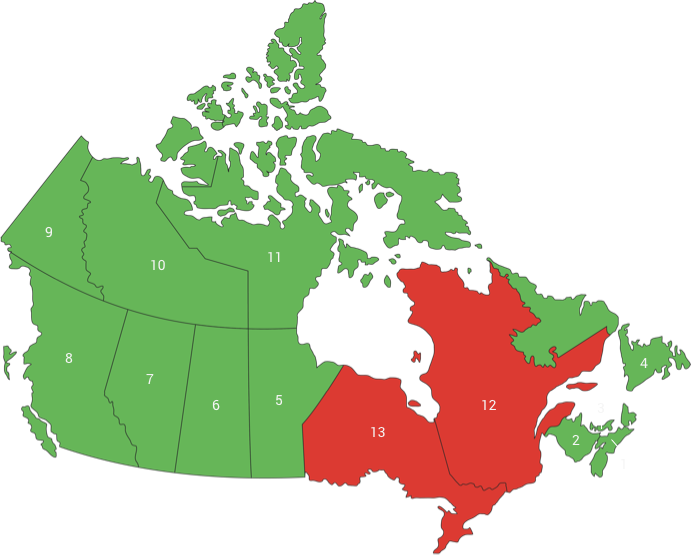 Available areas
1. Nova Scotia
2. New Brunswick
3. Prince Edward Island
4. Newfound land & Labrador
5. Manitoba
6. Saskatchewan
7. Alberta
8. British Columbia
9. Yukon
10. Northwest Territory
11. Nunavut
Please Note: We acknowledge that there are Franchise Legislations in Alberta, British Columbia, Ontario, Manitoba, New Brunswick and P.E.I. We are now only accepting applications and starting initial discussion in these Provinces. We will provide prospective franchisees with full and accurate written disclosure of all material facts and information pertaining to the matters required to be disclosed in advance to prospective franchisees about the franchise system a reasonable time [at least fourteen (14) days] prior to the franchisee executing any binding agreement relating to the award of the franchise.